Train and compete with your horse at home.
Have you ever wanted extra help when riding your horse? Maybe you were working on something new or challenging and wanted more guidance?

Let me help you with my online coaching sessions. You can choose from a mix of live lessons online, feedback on video clips with coaching tips and homework, coaching conversations and help to plan your competitions.
Don't worry about the tech set up. I can help you find the best solution for you without breaking the bank!
It's Time To Enjoy the Online Dressage World
With one-on-one coaching and a friendly community, you've found a brand new way to explore Dressage training and competition.
INTRODUCING...
DRESSAGE SCHOOL ONLINE
CONNECT WITH YOUR HORSE.
Learn how to train new movements and have help to develop your horse's way of going.
I'll help you identify the strengths as a partnership and to nurture your relationship with your horse.
I'll help you to unlock your potential as a partnership and prepare to step up a level.
I'll help you to recognise your rider headspace and to prime your mind to ride intuitively .
Find a place to school. Set up a way to film your sessions and organise coaching at home so you and your horse can optimise your dressage performance.
ONLINE TRAINING
Book a remote lesson with Alison. You will need a friend to film you or a robot camera such as Pivo.
VIDEO FEEDFORWARD
Your video will be analysed so that Alison can give you advice on what to do next.
COMPETE ONLINE
Enter to compete in a range of classes. There is something to suit all combinations. Alison has a Coach Discount for Online Dressage International.
EMAIL ADVICE LINE
Alison can be contacted by email to support her riders with competition preparation, schooling issues and horse care advice.
COMPETITION SUPPORT
Alison will work with you to help you plan your competition challenges. Explore performance mindset and setting goals you can train to achieve.
CAFE COMMUNITY
Alison runs Dressage Cafe zooms and a friendly community for riders to connect with like minded people.
COMPETITION COACHING
Ride onto the Center Line feeling confident and ready to showcase your horse's strengths. Your competition pathway is unique and Alison will tailor make your programme to suit you and your horse.

With competition coaching you can focus on riding your test and achieving your personal performance goals. Alison will help you build a profile of your partnership with your horse and together you will agree how you plan your shows and goals for the test. When you book in with Alison you are able to use the performance framework: Ride, Review, Reflect, Repeat.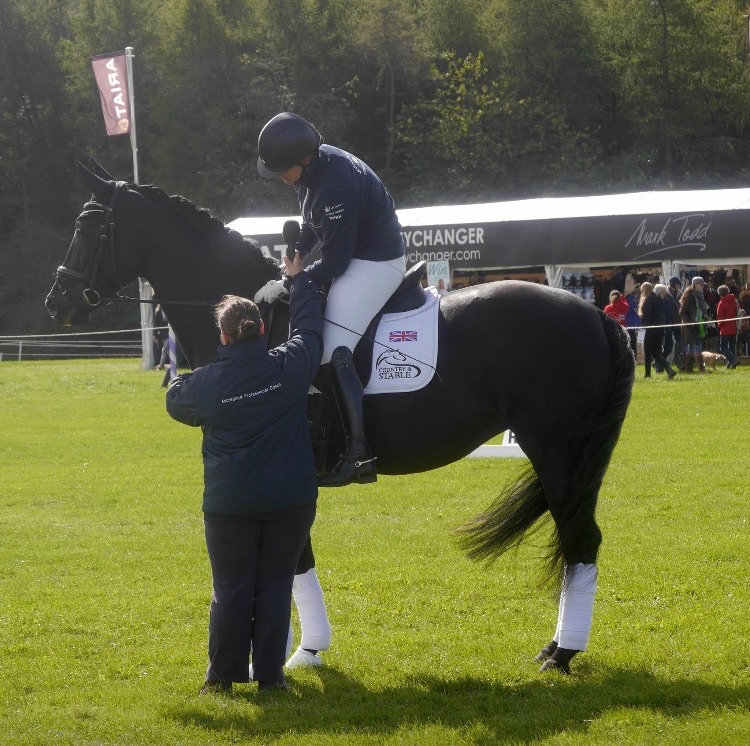 I'm an Equestrian Coach and have been helping riders develop great partnerships with their horses since 1994. I also ride and compete in Dressage Competitions both at home (online) and away at shows with Salvation.
I believe that everyone has the potential to learn and grow as an equestrian. I also feel strongly that Dressage is a really fun and effective way of strengthening communication between horse and rider. I enjoy helping people to adopt my Feel Good Dressage Philosophy. Dressage can and should be fun for horse and rider and my job as a Coach is to guide the partnership so that their experience is positive.
Join me on your dressage adventure and let me help you meet the challenges of the sport whilst looking after your horse.
"I've really enjoyed this programme. I felt it really improved my mindset in the lead up to MyQuest regionals. The course helped me with setting small achievable goals throughout the lead up to regionals both on and off the horse to really make me consider what it is I want to achieve, how I'm going to achieve it and get the most out of the experience!"
Megan Bevan
"Alison's thoughtful and positive approach in her workbooks have helped me be not only more reflective about each ride but recognise how I find enjoyment along my journey. I progressed to take on some 1-2-1 coaching to regain my confidence which had taken a knock and help me refocus on where I want to go. What's wonderful is the way she guides you to find the steps that work for you.I'm not achieving all my dreams (yet!) but I'm well on my way.
Raphaelle Heaf
IS THE COMPETITION CHALLENGE RIGHT FOR YOU?
Have you ever wanted to ride your tests at home in a familiar arena where the dress code is relaxed and you choose the time of day to present your test? Or have you ridden in online competitions and now want to improve your scores? 
If so, then the Competition Challenge is for you.
First you will present a test with your choice of online competition. Alison has a Coach Code for Online Dressage International.  
Riders might enjoy E Riders, Dressage Anywhere, Virtual Horse Sport and others. 
Alison is on hand if you need help to get started. Next you will book in with Alison for an online discussion about your test and guidance for how to improve your marks and continue your training. When you are ready you will present a second test. This formula is proven to help riders get the most out of their dressage tests so that they are progressing in their training. 


How do I set up live coaching?
Can I share coaching sessions with a friend?
Can I compete as part of a team?
How long should my video be?
How do I know what sessions to choose?